Meet the team
Here's the great team of dedicated, enthusiastic people behind the voices on Brooklands Radio
Lance England - In Memory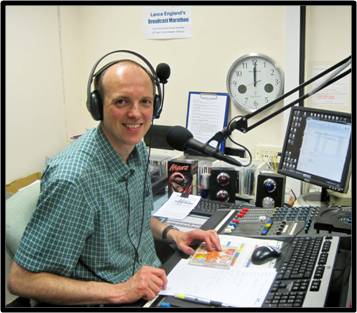 All of us at Brooklands Radio were saddened by the death on 19th October of Lance England, our Technical Director and a talented presenter.

Lance was born in Woking, grew up in Addlestone and went to St Paul's Secondary School (now Jubilee High). His keen interest in radio led to him joining local station Hospital Radio Wey at age 11, after his mother wrote in. He stayed for 19 years and was chairman from 1987 to 1990.

His first job from school was with Safir Engineering, on the Brooklands Industrial Estate, as a race car mechanic and building chassis for Panther and AC cars. The metalwork and welding skills he learned were hugely useful later at Brooklands Radio as he adapted and added to our technical equipment.

At 19 Lance joined the BBC as an Assistant Film Recordist, working on programmes including Bergerac, Nationwide and Panorama and becoming a Senior Audio Supervisor. He left after 10 years to set up a post-production sound-recording business, Gemini Audio, mixing TV soundtracks for the BBC, ITV, and most major broadcasters and working on programmes that included Ground Force, Horizon, Equinox, Dispatches, The South Bank Show and children's cartoon series Chuggington, and with many leading actors including Sir John Gielgud and Robert Powell.

With his unwavering and infectious enthusiasm Lance was a key driving force behind Brooklands Radio from the planning stage in 2005. Always keen that we should put service to the community first, in 2011 he broadcast for 24 hours non-stop to raise money for Woking and Sam Beare Weybridge Hospices.

He remained a motorsport enthusiast, kept a 1974 Ferrari 308 running and with his wife Liz rebuilt an MGB. His other interests included electronics, music and, in recent years, growing his own vegetables.

Lance was first diagnosed with non-Hodgkin lymphoma in his early forties when, after treatment, it went into remission. The illness was found to have returned early in 2012 and Lance endured intensive, gruelling treatment while remaining always cheerful and positive about the future. In his final months he put in many extra hours of work at the Brooklands Radio studios to improve efficiency and reliability.

Lance is survived by his wife Liz, whom he married in 1988, and their children Emily and Matthew.
--------------------------------------------------------------------------------------------------------------------------------------
Steve Begley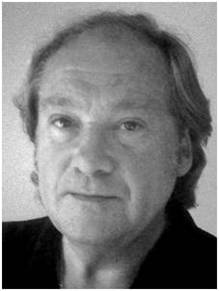 STEVE BEGLEY was brought up in Battersea and attended Sir Walter St Johns Grammar School there. Having done various jobs in different fields, he now works as a Business Development Manager for a company that designs, supplies, and installs fire suppression systems worldwide. He currently lives in Sunbury on Thames with his partner, Liz, and his cats, Jade and Knuja. He also has a son, Bruce, an apprentice engineer.
Steve has always been passionate about music, and started presenting radio at the age of 17 at Radio 9, a hospital radio station for the Tooting area. After a break of several years, he returned to radio, presenting a regular show on Kingston Hospital Radio, before going to Radio Jackie where he made some demos with Ex-Capital Radio Presenter Neil Long.
Steve presents a Monday Evening Show from 7pm called The Mixed Bag, playing music generally from the 70s-90s, with quizzes and competitions to get your brain ticking He is still involved with Kingston Hospital Radio, and he can also be heard on SuSy Radio.
Kate Corry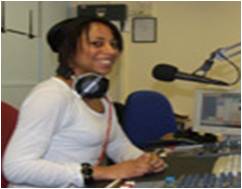 KATE CORRY joined Brooklands Radio because it reflected her interests in drama and broadcasting production. Our 2007 broadcast gave Kate her debut in radio, presenting the Saturday breakfast show.
In her day job she is a production manager for a company making corporate films and her other interests include reading, writing, travelling, keeping fit and nights out in London with pals.
Kate, the daughter of Brooklands Radio presenter Robin Corry, lives in Esher, where she was brought up. She went to Tormead School, in Guildford, and Manchester University, and appeared in stage productions at both.


Robin Corry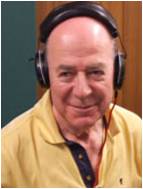 ROBIN CORRY fell in love with radio as a small boy in its heyday, listening to comedy shows such as ITMA, Much Binding In The Marsh and the adventure soap, Dick Barton, Special Agent. His dream of getting behind a microphone came true when he joined a hospital radio service.
In his day job he is a journalist and has written for and worked on most popular national titles including the Daily Mail, The Sun and Take a Break. He now helps people who want to sell their stories to the press through his agency, UK Features (www.sellmystoryuk.com).
Robin, who is our Communications Director, grew up in Middlesex and from Harrow County Grammar School joined the Army for National Service. He moved to north Surrey in 1967 and has lived in Esher with his wife since 1979. They have a daughter Kate, also a Brooklands Radio presenter.



John Cull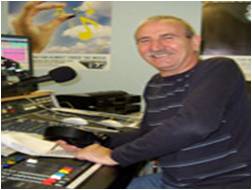 JOHN CULL began his radio career on one of the legendary pirate stations of the Sixties, Radio 390, housed on a fort in the Thames estuary. After the pirates were closed down he spent four years on Radio KZ in Melbourne, where the late Alan Freeman began his career.
Back here, he presented on local hospital radio but took a day job with Qantas Airways. He was propelled into celebrity as the airline's Duty Airport Manager at Heathrow in the BBC's fly-on-the-wall docu-soap Airport from 2000 to 2003, still repeated regularly on digital channels.
John was brought up in Addlestone and went to St Paul's School. Now living in Sunbury, he has taken early retirement from Qantas and runs the TV and radio website www.waveguide.co.uk.
David Durant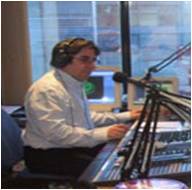 DAVID DURANT's love of radio surfaced in his teens when he began visiting a station after school each day in Bogota, Colombia, where he grew up, to answer the phones and bombard presenters and engineers with questions.
After moving to Surrey he gained experience in hospital radio and as a mobile DJ. His day jobs have included working with a motor-racing merchandise firm, reflecting his passion for Formula 1. He has also delivered TVs, and after installing two sets at Eric Clapton's home he was thrilled to be made a cup of tea by Patti Boyd and even more delighted with a £20 tip. He is now with a firm providing training for local authorities and schools.
David is a regular weekend presenter on Brooklands Radio with Under the Radar and organises our hugely successful Live Lounge events, show-casing local musicians. He has a teenage daughter and lives in Walton-on-Thames.
Michael Grinter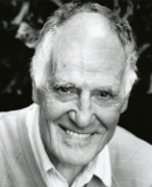 MICHAEL GRINTER'S childhood memories of radio centre around Sunday lunchtimes at home in Aberdare in South Wales when he recorded the BBC's Two-Way Family Favourites on a reel-to-reel tape recorder. He insisted his parents talked in whispers and he leapt up to press 'pause' during chat between records. When played back, the music was accompanied by low whispers and clinking cutlery.
 
When Michael came to Surrey in 1966 to teach at Sheen Grammar School, in Richmond, he became a fan of Radio Caroline and, as he grew older, Terry Wogan.
 
Now retired from a long career in education in the public and private sectors, he has trained as an actor, formed his own singing act, The Song Pedlars, and completed the circle back to his early interest in broadcasting by joining Brooklands Radio.
Mike Gurr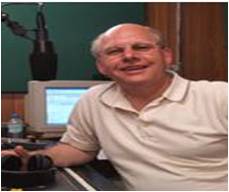 MIKE GURR, Brooklands Radio's Sales & Marketing Director, came into radio by chance when his wife Gill was in hospital to have the first of their two sons 25 years ago and a hospital radio volunteer offered to play a request for him. Mike joined the station and became a star presenter.
After leaving school, Mike joined the Air Training Corps and rose to Corporal Lead Drummer. But the world of music lost its budding star because he entered the motor industry as an apprentice. He has worked with top marques including Rolls Royce, Bentley, Mercedes Benz and Jaguar and today is a Fellow of the Institute of the Motor Industry.
Mike, who was was born and brought up in Worthing, West Sussex, has lived in Knaphill, Woking, for 26 years. His interests include radio-controlled model aircraft and motor-cycling.
Bev Harris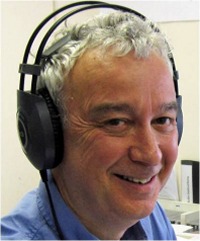 BEV HARRIS has loved radio since listening to Luxembourg as a teenager, and then the North Sea pirate stations. He finally got on the air himself after hearing about Brooklands Radio from presenter David Durant.
Born in Surbiton, he went to school in Wimbledon. From City University he went into education, as a teacher and later as a County Adviser in Surrey schools. A keen guitarist, Bev is part of a three-piece acoustic group called Some Time Later. He ran a folk music magazine in the 70s but likes 'most kinds of music from Abba to ZZ Top', so the broad-based Brooklands Radio playlist suits him fine.
He is married with two grown-up children and lives in Runnymede.


Suzanne Hunter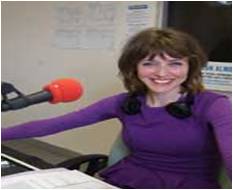 SUZANNE HUNTER's determination to become an actress was fired as a schoolgirl when she appeared in a play at the Leatherhead Theatre. She went on to train at the prestigious Guildford School of Acting and has worked on the West End stage, in theatres across the UK, films, TV and professional radio.
She is a member of BAFTA in recognition of her passion for the film and broadcasting industry and is now writing a play. Suzanne is a qualified sword fighter and loves tennis, rollerblading and dance.
Born in Hertfordshire, Suzanne moved with her family to Thames Ditton at age 12 and went to Esher High School. She now lives in Weybridge and joined Brooklands Radio through the Elmbridge volunteering site www.vae.org.
Debbie Hyde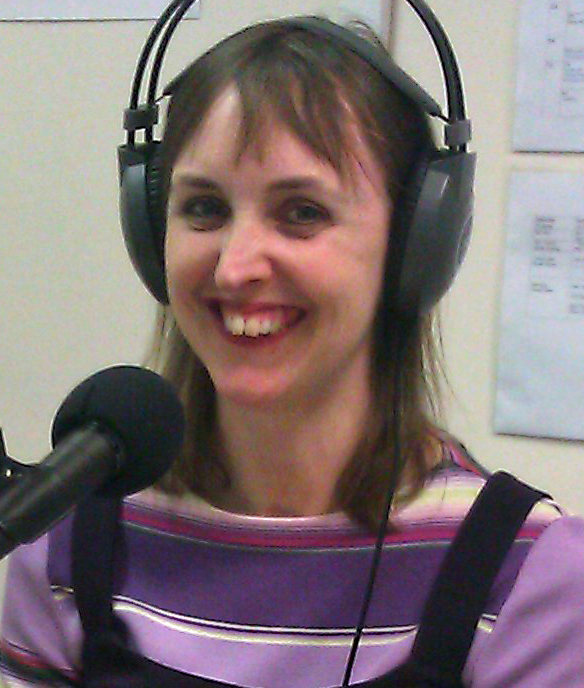 DEBBIE HYDE was drawn to Brooklands Radio by her love of producing shows. But after more than a year behind the scenes she has taken on a presenting role.

Her professional career began in marketing. She then moved into teaching, followed that with a spell in financial services and has now settled in recruitment, helping to place people in jobs that will suit them best.

Debbie enjoys discovering innovative new products and companies run by people who care about others and our planet for her programme It's All Good. In it she focuses on people who are quietly brilliant and shines a spotlight on those who have yet to achieve recognition. Musically, she describes her taste as 'anything uplifting and meaningful', ranging from rock and film themes to world music and classical.

Debbie was born in Hertfordshire and moved with her family to Surrey at age 14.


Celia Jones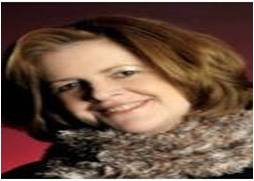 CELIA JONES has loved radio since as a child she danced around her home to the Sixties pirate stations. She also enjoyed radio plays and talk programmes and recorded spoof interviews with a friend on a reel-to-reel tape deck for fun.
After growing up in Cheshire, Celia moved to London for her work and now lives with her two cats in Shepperton. She joined Brooklands Radio after being interviewed on air as an organiser of Shepperton Village Fair. She decided she wanted to be involved in community radio and is part of our sales and marketing team. She currently co-presents the station's very popular Fabulous Women on Tuesday lunchtimes and Classical Collection on Sundays.
Away from the studio she runs a marketing consultancy, Cameo Marketing Ltd (http:\\www.cameomarketing.com)


Matt Joyes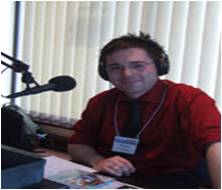 MATT JOYES' interest in radio surfaced in childhood when he recorded mock radio shows with his sister and cousin, interviewing each other as celebrities with funny names and voices and playing their favourite songs. Later he went into hospital radio and now presents on Radio Chelsea & Westminster.
A week night presenter for Brooklands Radio, Matt grew up in Stockwell and Clapham and lives in Woking with his wife, Ryn, and a small, violent, black cat, Evie. His relaxations include comic books, singing and Live Action Role Play, which he describes as running about in woodlands near Guildford killing monsters. So it's thanks to Matt that monsters are so seldom seen in the town.
In his Mixed Bag show Matt plays an eclectic musical mix including classics, covers, live tracks and random nonsense.
Graham Laycock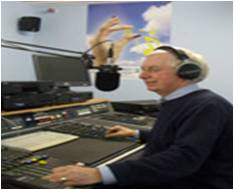 GRAHAM LAYCOCK made his radio debut in his early teens, recording programmes at home and inflicting them on his family on Sunday mornings. He progressed to his local hospital radio service, becoming Programme Controller and then Chairman.
When he heard from former hospital radio colleagues of their plans for Brooklands Radio he jumped at the chance to be involved and renew old friendships – so much so that he moved from Leighton Buzzard, Bedfordshire, to Great Bookham to be part of the team and become Programme Controller.
Graham grew up in Walton-on-Thames and on leaving Ambleside School joined British Rail as a junior clerk. He rose to senior management roles in the railway industry but in 2003 a bout of ill-health led to early retirement. He and his wife Anita have two grown-up sons and his interests include photography, railways, buses and helping others with the vasculitis condition he suffered.
Dani Maimone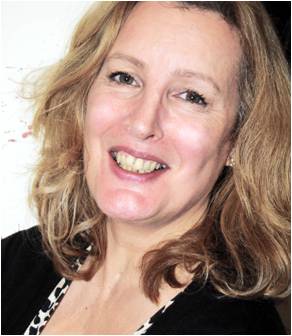 DANI MAIMONE has always had an interest in broadcasting and joined Brooklands Radio after bringing someone to be interviewed by the lovely Dan Curtis (see above), and now presents her own daytime show on Thursdays. A keen Rotarian who writes about Surrey charities, Dani loves giving them a voice on Brooklands Radio and, with a degree in zoology, she is also passionate about wildlife conservation. She will produce a monthly feature with Surrey Wildlife Trust called "A Walk On The Wild Side" which will air on the first Thursday of each month from 1:30 - 2pm. It will feature wildlife experts, events, volunteers and the many wonderful locations around the county managed by the Trust.

A former professional hot air balloon pilot, Dani now works as a freelance writer, photographer and PR consultant - and still flies balloons for fun! She has an eclectic taste in music from the 60's to the present day and you can follow Dani on twitter @MamaBalloon and see her photography at www.danipics.com.
Jackie Mitchell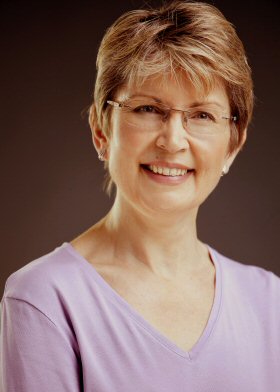 JACKIE MITCHELL entered broadcasting via a hospital station in Tooting. Later she worked as a reporter and newsreader on two Hong Kong radio stations, but was turned for a radio job in Australia because her English accent was considered a problem.

With a background in journalism, Jackie began her career on the Surrey Advertiser. After stints on newspapers and magazines here and overseas she moved into business publications and now runs her own PR and writing consultancy (more information at www.jackiem.com).

Jackie, who co-presents Brooklands Radio's Just Women talk show, grew up in Wimbledon and West Byfleet, went to Woking Grammar School for Girls and now lives in Claygate. Among her claims to fame, at age 10 she was the voice of Floppy Tail Bunny on a children's CD.
Terry Peters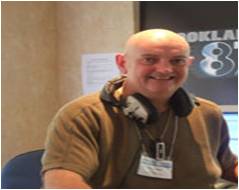 TERRY PETERS' enthusiasm for radio surfaced in his teens when he began recording shows on cassette to play to family and friends. After an early career as a baker he began broadcasting on London station Choice Radio where he stayed for 13 years. He went on to present TV shows, including Dancemania on QVC.
Terry is also busy with voice-over work, compering, and running his business, Terry Peters Discotheques.
Born in Hampton, Terry went to Kenyngton Manor School, in Sunbury, and now lives in Sunbury with his wife and two children. Away from the microphone he relaxes with angling, belonging to several local angling clubs, and representing tackle manufacturer Colmic in match angling competitions at local and national championship levels.
Barry Richards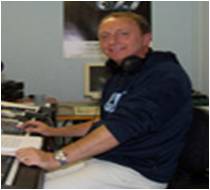 BARRY RICHARDS has broadcasting in his blood – his father was Sound Director at ATV and he had uncles working at ITN and Thames TV. In his teens he joined a Surrey hospital radio service and moved on to host a chat show on London News Talk with Adrian Just. He has also done voice-over work on radio and cinema commercials.
In his day job Barry is HR Director for Europe, Middle East and Africa with international advertising agency McCann-Erickson, whose clients include such household names as Mastercard, Microsoft and Nestlé – making him ideally qualified as both Advertising & Promotions Director and HR Director with Brooklands Radio.
Barry grew up in Weybridge, went to Fulbrook School in New Haw, and now lives in Woodham with his wife and two children.
Nicky Rudd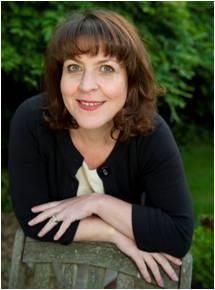 NICKY RUDD co-presents Just Women on Tuesdays from 1pm. She has worked with the media in different guises for the past 17 years. After a couple of stints observing the Jeremy Vine show and helping to edit Sounds of the 60s on BBC Radio 2, she decided to get a lot more hands on and began working at BBC Radio Northampton, where she was responsible for producing and presenting several programmes.
Nicky set up her own business communications consultancy, Padua Communications (www.paduacommunications.com) in 2009. She is currently a Trustee for City YMCA, as well as volunteering with Surrey Young Carers. She has a BA Hons degree from Southampton University and a Postgraduate Certificate in Education from the Institute of Education at London University, as her first proper job was as a secondary school English and Media Studies teacher. Nicky lives with her husband Jason in West Byfleet. She loves tea, has written a script and was shortlisted to be the voice of the speaking clock. You can follow her on Twitter @nickyrudd01.
Eleanor Saxon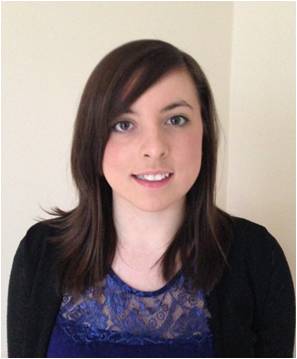 ELEANOR SAXON presents the local history programme, Surrey's Past, and is a co-presenter on Brooklands Sport on Saturday Afternoons on Brooklands Radio.
Eleanor has lived in Weybridge since she was 9 years old. She went to St George's College and wanted to be a journalist during her teenage years after meeting Garth Crooks. Eleanor has always been interested in history and graduated with First Class Honours in History from Swansea University. Most recently she has achieved a Master of Research in History with a Distinction from Goldsmiths, University of London. She is a huge lover of sports, history and wildlife and really enjoys both presenting and producing radio.
Janet Shell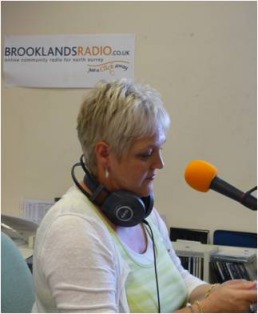 Janet Shell recalls radio as being a large part of her childhood. "The programme I first really remember is 'Listen with Mother' and then we always had 'Family Favourites' on over Sunday lunch. The presenters always made you feel as if you were their only listener and that you mattered."
As a professional singer, radio has played a large part in her career. She was the first person to sing live on Classic FM and has broadcast several times on BBC Radio too. She has been interviewed on national radio stations around the world and sees radio as an intimate connection between the listener and broadcaster. For her, The Classical Collection on Brooklands Radio is a chance to get behind the wheel and drive a programme, introducing music and anecdotes and inviting her audience to share a musical experience.
Janet still sings professionally and she teaches alongside running her company Talking Voice which promotes vocal health and communication skills.

Gary Smith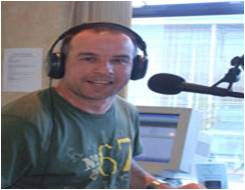 GARY SMITH's twin passions of music and sport are reflected in his varied roles at Brooklands Radio – as a weekday host of music-based programmes and a mainstay of our Saturday afternoon sports coverage.
His main career has always been in the leisure industry and Gary is now manager of Feltham Airparcs Leisure Centre, near Heathrow. On radio he has covered football and local events for Milton Keynes-based Horizon Radio and for Jack Radio in Oxfordshire. Musically, he plays drums in a local band, The Seen and ran a mobile disco for many years.
Gary's main other interests are autobiographies and comedy and he has been known to perform as a stand-up comic. He lives in Bedfont with wife Vicky and their toddler daughter Ruby.

Jenny Sohl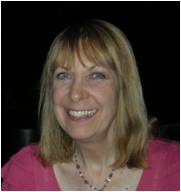 JENNY SOHL is a newcomer to radio, although she has always been interested in the backroom aspects of broadcasting, film and television. She was invited to join the team after being a guest on The Classical Collection in 2011 and now presents two shows a month. Jenny is a huge Beethoven fan and also loves Brahms, Rachmaninov and Sibelius, as well as Early Music.
Jenny is deeply involved in Classical Music, having learned the violin from the age of four and currently plays regularly for six orchestral groups. She also enjoys Chamber Music whenever she can fit it in. She lives in Woking with her husband and together they own and run Sutton Tennis Academy (www.suttontennisacademy.com), the largest indoor tennis centre in the UK with an emphasis on junior and performance players. She has 3 children; a boy (an ex-professional tennis player) and twin girls, one of whom is a professional rock singer. Her other interests include historical costume, films and writing poetry.

Jo Sumner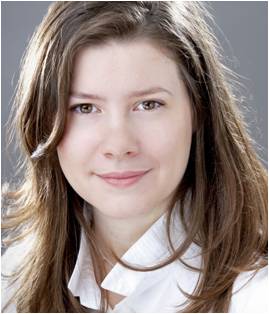 JO SUMNER has a French mother and an Irish father and is proud to be a Londoner born and bred. Her career began in medical research, looking at the ethics of tests involving humans.

Later she trained as a practitioner in yoga, reiki and other complementary therapies and now runs the Joanne Sumner Studio, in Ealing (www.joannesumner.com) where she offers classes and treatments. She also trains other practitioners in meditiation, reiki and flower essences.

Her interest in broadcasting was fired when a former colleague told her that she could imagine hearing her on radio. She now presents Brooklands Radio's Feel Good With Jo, where she and guests discuss techniques for leading a happy and healthy life.
Rupert Suren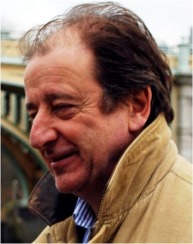 RUPERT SUREN had wanted to work in radio for as long as he could remember and when he saw a story about Brooklands Radio in a Surrey local paper he knew his chance had arrived.
A motor sport enthusiast, he raced go-karts at age 14 and later raced single-seater cars for several years. His career is in marketing and he runs his own direct marketing agency, Blue Channel (http://www.bluechannel.co.uk/).
Rupert was born in Twickenham, spent the early part of his life in India and has lived and worked in Italy, France, Germany and Switzerland. He has two daughters, both with successful careers in film and television, and lives in St Margaret's with his girlfriend of many years and their French Mastiff.
Alan Timbrell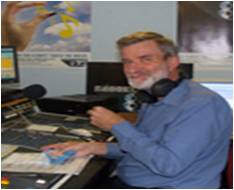 ALAN TIMBRELL, Chairman of Brooklands Radio, had the idea for the station in 2004 and has worked towards making it a full-time community radio service since then.
His love of radio was fired by the off-shore pirates of the Sixties. At age 16 he and a friend founded a hospital radio service at Weybridge that survives today. From St James School, Weybridge, Alan joined GPO Telephones (now BT) as an apprentice engineer, later managed projects in the mobile phone industry and is now a consultant project manager with a private medical group.
Alan believes that radio today could be much more enjoyable, entertaining, and distinctive. He feels that presenters should have more say in content and encouraged to try out their own ideas so that their programmes reflect their personalities.
Robert Young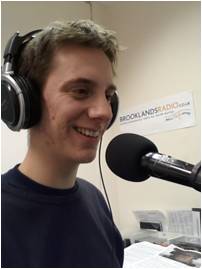 ROBERT YOUNG was born in Solihull in 1989. He spent much of his childhood surrounded by music having always practised his radio technique by recording fake radio shows with friends and commentating on any football video game that he played.
While at the University of Hertfordshire, he ran a morning breakfast slot for student activity groups. He moved to Surrey in 2010 and joined Brooklands Radio. From being a keen tennis player from the age of 5, Robert has now progressed to being an umpire and has officiated at the last two Wimbledons. Since 2010, he has worked at Brooklands College. He is a massive Arsenal FC supporter.
Robert presents Lifestyle at 9 on Tuesday evenings and is a co-presenter on Brooklands Sport on Saturday afternoons.
________________________________________________________________________________________________
Ray Rainbow - In Memory

All at Brooklands Radio were very saddened to learn that Ray Rainbow passed away in hospital on 2nd December 2011 after a prolonged illness. Ray loved doing radio and was a brilliant broadcaster. He was with us from the start of BrooklandsFM with our annual 4-week stints on FM and put much preparation into his very entertaining and fun shows, first in an evening slot and later developing through our ongoing internet service a very successful Sunday Brunch show full of fun, amusing stories, competitions, guests and great music and jingles which proved ideal entertainment for a Sunday morning.

He was very generous helping many new recruits to Brooklands Radio passing on his skills with advice on preparing and presenting on radio and many went on to present their own shows with us. Ray was successful in getting a show on Radio Jackie but had no hesitation in wanting to continue his support and involvement in Brooklands Radio.