Surrey Business Affairs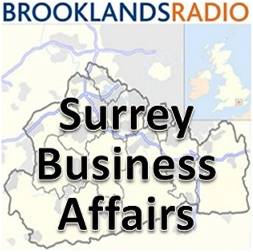 Surrey Business Affairs
is the new monthly business show
presented by Jackie Mitchell & Alison Florence.


First Friday of each month at 1.00pm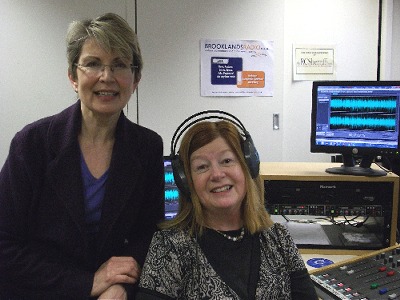 Jackie and Alison will be discussing with their guests the challenges facing businesses in the area, as well as new opportunities and innovations.
They will have experts on the show who will give helpful advice and information.



Next Programme - 6th December 2013
Jackie and Alison present the December edition of Surrey Business Affairs with guests:
Porky Whites sausages from Graham White & Co in Woking, has picked up a top award at the BPEX Foodservice Sausage of the Year competition. Chairman Graham White will talk about the award and the family company which started 75 years ago. www.porkywhites.co.uk

Entrepreneur Paul Davies from iThinkLots has launched "Thinkathons", monthly innovation workshops, to help new businesses and aspiring entrepreneurs to turn their ideas into reality. He will be talking about this new venture, www.ithinklots.com

PJ Farr, Countrywide Telecoms, a former rifleman in the British Army, has been named as a Guildford Young Ambassador through a new scheme set up by Guildford Council. He will be talking about his role as an ambassador, as well as how he started up his own company. www.countrywidetelecoms.com

Mark Pearson from Surrey Connections, Surrey's economic development business, will discuss its new programme Digital Business Surrey aimed at helping small and medium enterprises boost their digital capabilities as well as its 'Invest in Surrey' initiative. www.surreyconnects.com
--------------------------------------------------------------------
Jackie and Alison present the November edition of Surrey Business Affairs with guests:
Carl Gibbs from C. Gibbs & Son, 24 hours locksmiths in Weybridge, Addlestone and Chertsey, talks about how he started his family-run locksmiths business and the anti-burglary campaign he is spearheading. www.nordiclocks.co.uk

Matt Peachey, economic development manager at Woking Borough Council, discusses the C21 business incubation programme, which was launched 10 months ago, its objectives and how it is progressing in its quest to support new businesses. www.woking.gov.uk

Sarah Keel started up her business Babycup.co.uk when she couldn't find a cup suitable for her daughter. So she made her own – a miniature cup shaped cup. She talks about how she progressed an idea into a fully blown business, giving tips on how to start your own business. www.babycup.co.uk

Keith Pollington who runs Pollingtons newsagents in Oatlands Village, Weybridge, has been named as Independent Newsagent of the Year. He talks about the Award and how it has helped his business.
--------------------------------------------------------------------
Jackie and Alison present the October edition of Surrey Business Affairs with guests:
Nicky Kriel, social media trainer, talks about her new book "How To Twitter For Business Success", the importance of social media for businesses and her forthcoming social media conference. www.nickykriel.com

Paul Webster, organiser of the Woking Means Business exhibition which takes place on Wednesday 9th October at the HG Wells Conference Centre in Woking, gives listeners five good reasons why they should attend the show including seminars, a free 1-2-1 consultation and networking opportunities. www.wokingmeansbusiness.com

The first ever Professions Week takes place from 21 - 27 October and aims to raise awareness among 14 to 19 year olds in the professions. Professional bodes involved in the week include Chartered Institute of Personnel and Development and the International Association of Book-Keepers. Sarah Hathaway, chair, Professional Week, explains the aims of the week and discuss the planned activities. www.professionsweek.org

Lisa LaRue from Career Central C.I.C discusses the launch of Woking Jelly which hosts its first co-working event on Monday 7 October with the support of Start Up Woking and Woking Borough Council. Jelly co-working encourages freelances, home workers, entrepreneurs and small business owners to get together once a mouth to share a workplace. www.facebook.com/WokingJelly
--------------------------------------------------------------------
Programme - 6th September 2013
Jackie and Alison present the September edition of Surrey Business Affairs with guests:
Shirley Palmer, CEO and Founder of Calmred, set up her own business consultancy five years ago. She will discuss how Calmred reconnects people and businesses to their vision and talk about the three books she is currently writing about business, women and personal development. www.calmred.com

Aristos Peters has invented a smartphone application "D Risk It" to help entrepreneurs and start up businesses to seal investments. He will talk about how the new App will help budding entrepreneurs get prepared before they approach angel investors. www.drisk.it

Teresa Stark combines her love of dogs with running her own home-based business - Barking Mad providing professional care for dogs in a home environment. She will talk about the challenges of working from home and how she set up her business. www.barkingmad.uk.com
--------------------------------------------------------------------
Jackie and Alison present the July edition of Surrey Business Affairs with guests:
Marsha Hall, who runs her own business making handmade shoes, talks about the challenges facing small business owners today, how she got started and how she has diversified her business to offering workshops.www.marshahall.com

"The Recession is Over...Time To Grow" is a new book from Keith Churchouse a financial planner and creator of Chapter Financial. He talks about his new book and how he thinks the UK economy is on the mend and how businesses should be encouraged to be ready for the transition.www.chapterfinancial.com

Emma-Jane Packe talks about Prelude which offers master classes, a growth partner programme and training programmes as well as The Supper Club, an invitation-only group of entrepreneurs who share knowledge experience and contacts.www.preludegroup.co.uk
--------------------------------------------------------------------
Jackie and Alison present the June edition of Surrey Business Affairs with guests:
Gerry Brierley, vice chair of the Federation of Small Business Surrey Policy Team talks about her special interest in getting fairer deals for micro businesses, why she has taken a career break, tips for small businesses and her plans for the future.

Mike Loughton, business growth adviser, Nigel Botterill's Entrepreneurs Circle, talks about how he helps business owners achieve the results they set out to achieve. What are the six numbers business owners should know that are critical to success?

Anita Winter Apprenticeship Manager, Brooklands College, discusses the benefits of taking on an apprentice, how an apprentice can help your business and how Brooklands College can help.
--------------------------------------------------------------------
Jackie and Alison present the May edition of Surrey Business Affairs with guests:
Antonio Falco, Surrey Policy Chairman of the Federation of Small Businesses (FSB) talks about issues affecting small businesses and how the FSB can help. www.fsb.org.uk

Jayne Morris, author, coach and burnout expert talks about why a cluttered desk may harm your career and her new book "From Burnout To Brilliance." www.jaynemorris.com

Catherine Richardson from St James's Place Wealth Management gives advice for businesses on building and preserving their capital, managing their cash and borrowings. She also covers the biggest financial risks businesses face today and how they can protect themselves. www.sjpp.co.uk/crichardson/
--------------------------------------------------------------------
Jackie and Alison present the April edition of Surrey Business Affairs with guests:
Ginetta George, Managing Director of Graphic Express talks about her company which specialises in exhibition and display graphics; as well as the importance of business networking, as Chapter Director of BNI Elmbridge. www.graphicexpress.co.uk

Alan James, partner of Alan James Chartered Accountants talks about the issues facing small businesses and their finances, as well as tax tips as 5th April is the end of the tax year! www.alanjames.co.uk

Pauline Hedges, Chairman of the West Byfleet Business Association, talks about plans to revitalise the area, as well as how she started her own business Easily England providing bespoke tours for visiting businesses and local wealthy individuals. www.easilyengland.co.uk
--------------------------------------------------------------------
Programme - 22nd February 2013
Jackie and Alison present the February edition of Surrey Business Affairs with guests:
Louise Punter, Chief Executive of Surrey Chambers of Commerce, discusses the issues facing businesses in the current climate, what help is available, the importance of international trade and how to prepare young people for the workplace. www.surrey-chambers.co.uk

Samantha Park is an online entrepreneur who recently won a 'Spirit of London' Award. She began her online jewellery business 'What's About Town?' 10 years ago at the age of 15 and her products have been worn by many celebrities including Cheryl Cole and Pixie Lott. She launched her self designed jewellery line Kissika a year ago. www.kissika.com
--------------------------------------------------------------------
Subscribe to the podcast to download all the editions as they become available:
---
Interviews from the previous Business Affairs programme which ended April 2012 can be found here.